Online Drum Lessons for Beginners
Before becoming a drummer, I tried online drum lessons, personal drum lessons, and any other kind of drum lesson I could. I found among all of them some that worked and some that didn't. I decided to put together this post about Dann Sherrills "Learn & Master Drums" bundle to help aspiring drummers make an informed choice about it. This is my honest review of one of the most comprehensive and complete online drumming lessons bundle in the market today.
Are Online Drum Lessons worth it?
Those looking for drum lessons from scratch with a pro, at their own rhythm and pace from the comfort of their home, this might be everything you were looking for.

Who is Dann Sherrill?
If you are an avid music listener you might be aware that Nashville, Tennessee is the epicenter of the music scene right now. The best studios, producers, and musicians can be found within city limits. Big corporations and major artists all work in the same area shaping the music that the entire world will dance to.
When you decide to take online drum lessons, why not aim for a Nashville legend who has played with all kinds of artists at a pro level for the past few decades? That very person would be Dann Sherrill. His resume is very impressive and his playing skills are up to industry standards in such a demanding environment as the Nashville scene.
This alone doesn't turn Dann Sherrill into the instructor for the drum lessons you were looking for. Getting a drum lesson from a good drummer doesn't guarantee that you will learn to be as good as him or her. What sets Dann apart from his colleagues is that he has been a teacher for decades. Understanding your own instrument is not the same as explaining it to others. Moreover, being a proficient player doesn't make you a good teacher. In this area, Dann excels almost as dramatically as he does behind the drums and cymbals.
He is not only a proficient drummer and teacher; he also is a world-standard percussionist with a special taste for Latin rhythms. He has taught these disciplines everywhere including secondary schools.
His "Learn and master drums" received the label of being "the most exhaustive self-study course for drum kits ever published." Let's take a deeper look at it to see if all this is true or part of building hype for marketing reasons.
Who is this course for?
The aim of these online drum lessons is to teach people the very basics of the instrument. This is to say that it starts from rock bottom for people who have never held a drumstick in their life. According to Dann, his drum lessons will have someone playing his or her first beats within a week of learning at the most. So, this course is aimed at both beginners and intermediate players.
If you are looking for a specific drum lesson to take your current playing somewhere else, you might be skipping through some of the lessons. On the other hand, if your idea is learning the instrument from scratch, then Dann's approach can prove to be exactly what you were looking for.
Across the whole length of the lessons, and due to his musical background, Dann covers many different styles and genres with master skills in each. It really is something to bear in mind, especially for those taking their first steps in drumming. Once you have a thorough understanding of the instrument, you might want to dive deeper into one style or another. With this course, you'll get a little of each; enough to sit on the drum kit of any genre or artist.
What's in the box?
There are different versions you can get at different prices for this bundle of CDs, DVDs, and a book. Although it differs in price, the big difference between the top-priced version and the rest is the hardcover presentation of the printed material. If you want the printed material to look better and last for a longer time, then those extra dollars will very well be worth it. Otherwise, getting the regular softcover version will mean exactly the same:
12 instructional DVDs
5 CDs to play along with
100+ pages instructions workbook with exercises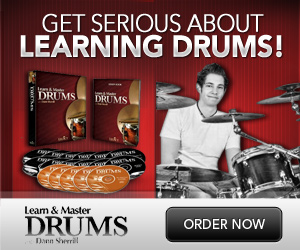 DVDs
The complete list is of 12 DVDs which are the spine and the foundations of the method. You might be thinking that you could have other online drum lessons, but what shines through in this program is the organizing power behind the lessons. Each lesson is the starting point for what's coming next and you're never jumping from one loose concept to the next. It is safe to say that all foundations are solid before you start building up. It is in the DVD section of the course that Danns ability to explain and years of teaching separate him from being just a great drummer. Drum lessons this solid and from a legend like him would cost you up to ten times the price tag.
CDs
The five CDs included in the bundle are for practicing purposes. You get tracks of songs with which you can do drum karaoke playing along with drum-less versions of popular songs. The CDs cover a real vast territory and are perfect to practice what you are learning with the DVDs. It is important to note that as you are making progress, songs get more difficult too. There is some room for improvisation while other players carry the tune for you as you learn more rolls and fills. In my opinion, the CDs are a paramount addition to the bundle.
Workbook
The workbook (hard or soft cover) is the theoretical and technical side of what happens in the DVDs. Those of us who are a little more curious and love knowing everything about what we are learning will find in these pages a little treasure. For those who are more used to learning by repetition, videos, and images, you'll get much more from the DVD drum lessons than you will from the workbook. That being said, theory and technical knowledge are a must for any accomplished drummer who wants to get into the professional world.
Bang for the buck: hit or miss?
The amount of information available is a monstrosity that will take you months and even years to understand and master. By the end of the course you'll have a thorough understanding of drumming for most music genres in the world. This is to say that the title "Learn and Master Drums" title is completely accurate as long as you complete your part of the deal which is putting down the hours of work over the instrument.
In my opinion, the bundle is a definite hit for the price tag.
Things to bear in mind
This might seem like a no-brainer but I actually had to purchase a DVD player to use this bundle. I didn't own one because everything I watch comes from the big screen or streaming platforms. The same thing might happen if you don't own a CD player. In fact, you need a CD player and also a pair of very good, long-cord headphones to play karaoke with the drums along with the CDs and maintain family harmony, especially at the beginning.
Conclusion
Taking online drum lessons, guitar lessons, and piano lessons can be very exciting and fun, especially when you start to get the hang of it. Learning how to play drums with different teachers and getting one tip from each is very hard. A drum kit is a musical instrument and needs a comprehensive approach rather than bits here and there.
If you were to take these online lessons from a legend like Dann in his own private studio, you would spend way more than the bundles' price tag.
For those about to embark in the world of drumming, I would say that this bundle is the next best thing to actual classes with a physical teacher. In fact, depending on the teacher, these might prove to be better.
Click Here to start learning the drums today. Happy playing!